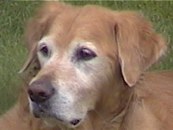 Adieu fidèle Max.

Pendant 13 ans, tu as été notre fidèle compagnon. Tu as su égayer nos journées et même lorsque nous, ca n'allait pas, tu venais à notre rencontre pour nous transmettre ta joie de vivre. Malheureusement, nous avons du décider d'abréger ta vie pour que tes souffrances se terminent. Tu resteras toujours dans notre mémoire avec ton énergie inépuisable, ton amitié inconditionnelle et ta grande fidélité. Repose toi bien, mon bel ami.

Max : 30 septembre 1987-31 Août 2000.

Louise et Richard

So long Max,

for the last 13 years, you have been our loyal companion. You brought happiness in our life, even when we did not feel like it. When we were sad, you came to us and put us back on track with your energy.

Unfortunately, we had to shorten your life to make your suffering stop. You will always remain in our memory, with your great energy, your inconditional fidelity and your friendship. Rest in peace my good friend.

Max: September 1987- August 2000.

Louise and Richard.

BIENVENUE CHARLIE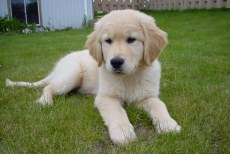 En Juin 2002, nous avons adopté Charlie, un magnifique Golden retreiver de 8 semaines. Comme Max est parti depuis 2 ans, nous nous devions de lui trouver un successeur. Charlie est un très bon chien, et je crois qu'il nous donnera beaucoup de joie et d'amitié.

In June 2002, we decided to adopt Charlie, a beautiful 8 weeks old Golden retreiver. As Max deceased 2 years ago, we had to get him a successor. Charlie is a good dog and i think he will be a good companion, filled of joy and friendship.

Voici une photo de lui datée du 14 Aout 2002.

Here is a picture of him from August 14th 2002.